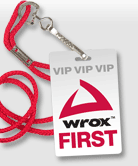 Thank you for your interest in the Wrox First wikis. We learned a lot from the use of the wikis over the past year, however, we have decided to shut down this experiment at this time.
We are confident that you will find all the programming resources you need throughout the Wrox.com site. Examples of the useful content you can find include Wrox books in print and E-book format, electronic Wrox Blox, the Wrox electronic library at wrox.books24x7.com, and the p2p.wrox.com programmer discussion forums.
Thanks again for using the Wrox First wikis. We appreciate your interest, and hope you will continue to browse Wrox.com for all the other great programmer content the site has to offer. If you have any questions about Wrox First products or subscriptions, please contact us at wroxfirst@wiley.com.